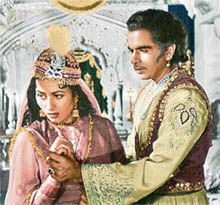 I've become terribly obsessed with Indian cinema, specifically Hindi (Bollywood). I feel like I've nothing but watch Hindi movies and listen to their soundtracks over the past month. This is all thanks to a guy I work with who loaned me a couple to get me hooked. That was bad enough, but discovering that DVDs are easy to obtain for less than $3 really sealed it.
I had a very specific idea of what Hindi cinema would be. While the stereotypical depictions come from somewhere, largely the movies were not what I expected them to be. I was surprised to see the range, which makes me sound horribly ethnocentric. But I feel the same way about American movies that are outside the conventions of American movie-making.
I have been unsuccessful in getting a friend or family member interested too, but I'm still trying. It'd be a tad more fun watching with someone else. For now, Andre will do. At least we can discuss and share the films while at work.
Recommended Films: Mughal-E-Azam, Umrao Jaan (2006), Kuch Naa Kaho, Pyare Mohan, Mr. & Mrs. 55.
Not convinced? Here are some solid reasons for watching Bollywood films: actors- Arjun Rampal, Abhishek Bachchan, Tusshar Kapoor, Upen Patel, Vivek Oberoi, Sunil Shetty, Ashmit Patel, Amitabh Bachchan; actresses- Aishwarya Rai, Rekha, Mahima Chaudhary, Madhubala. Look them up and you'll understand.
Here's what I'm up to film-wise.
SaveSave